NSDC Funded Affiliation - Overview
Catalyze the creation of sustainable and quality skills training institutions across the country.
Support and coordinate private sector initiatives for skill development through appropriate Public-Private Partnership ( PPP ) models, strive for significant operational and financial involvement from the private sector
Play the role of a "market-maker" by bringing financing in sectors where market mechanisms are weak or missing
Prioritize initiatives that can have a multiplier or catalytic effect on capacity and quality of skilling in India
The Funding Guidelines provide for a differentiated approach for 'for-profit' entity and 'not-for-profit' entity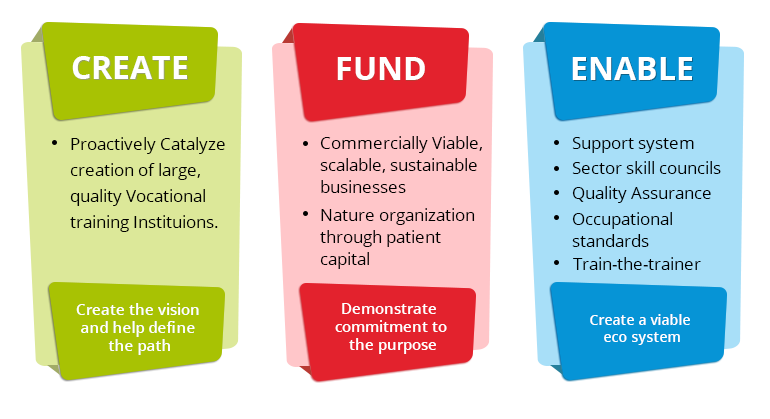 Key Elements of NSDC Funded Affiliation
Parameter
NSDC Funding Guideline
Eligibility
Any legal entity including, but not limited, to Company/ Society / Trust as per the process and applicable laws and guidelines
What Gets Funded

Total investment requirement towards –

Training Infrastructure (excluding the acquisition/creation of immovables);
Working Capital

Interest Rate
6% p.a.
Principal Moratorium Period
Up to 3 years
Interest Moratorium Period
NIL
Repayment Period
7 years (including moratorium period)
Promoters Contribution

Minimum 15% of the investment requirement ( not-for-profit entities )
Minimum 25% of the investment requirement ( for-profit entities )

Training Commitment
Standard Proposals
Corporates – Listed in BSE/NSE for more than 3 years with a credit rating of A- or above or foundations/similar ventures
Private Universities, Engineering Colleges, ITI, Polytechnics
Training Commitment

Standard Proposals
20,000 persons over 7 years

Corporates – Listed in BSE/NSE for more than 3 years with a credit rating of A- or above or foundations/similar ventures of such organisations
5,000 persons per centre over 7 years

Private Universities, Engineering Colleges, ITI, Polytechnics
5,000 persons per centre over 7 years

Placement Guarantee Commitment
At least 70%
Collateral

First charge on assets of the project
First charge on cash flows of the project
First charge on IP developed under the project
Personal Guarantee/ Corporate Guarantee/ Put-Option on another Associate Company
Pledge of shares to the tune of minimum 51% of the equity of the project implementing entity ( for-profit entities )
Pledge letters to be taken ( not-for-profit entities )
Post Dated Cheques
Hard collateral (including but not limited to bank guarantee/ mortgage of immovable property/ lien on fixed deposits etc.) covering minimum 30% of the loan amount
CORPORATE GREEN CHANNEL ROUTE
NSDC under this partnership model shall closely work with the corporate to develop their model of engagement and provide advisory support. The objective of Corporate Green Channel Route is to provide ease of partnership to corporates who want to be associated with NSDC but do not require funding or grant support from NSDC. It comes with a unique opportunity to provide corporate and NSDC co-branded skill certification to the candidate.
Eligibility Criteria:
Any entity having positive net worth at the end of FY 18-19 (or as applicable) and meeting at least any two of the four conditions mentioned below shall be considered as a Corporate:
Listed on BSE or NSE
The entity should have demonstrated sustainable growth over the years; Average annual turnover of over and above INR 200 crores for last three financial years
Credit rating of 'BBB' category or above from an RBI registered credit agency
Number of employees on direct employment with the company (on-roll employees) should be at least 1,000 as on last reporting date of audited financials
The corporate should be the lead applicant for the partnership and its primary business shall not be skill development. The lead applicant should have the ability to exercise management control over the implementing entity which can be an associate/group entity.
Partnership Model:
Salient Features
Details
In-principle Partnership with-in 72 working hours

Proposing entity meeting the eligibility criteria shall be provided with an in-principle partnership, basis the following mandatory documents:


Letter of Intent to become NSDC partner
Demand Draft in favor of NSDC for the processing fee

In cases where the proposing corporate entity identifies an implementing entity other than itself for the project the implementing entity to receive NSDC partnership status.

Processing fee
The fee shall be realized in two stages:


Application fee: to be paid at the time of submission of the application


| | |
| --- | --- |
| Application Fee per proposal (Non-refundable) | INR 75,000 |

Approval fee: to be paid at the time of signing of agreement


| | |
| --- | --- |
| Approval Fee per proposal* | INR 1,25,000 |

* NIL approval fee for corporate with annual CSR contribution/spend towards skill development of INR 2 crore or above

Key Objectives/ KPIs/ Action Plan
Few of the Objectives/ KPIs that could be covered as part of the corporate proposal includes:


Delivery of industry driven trainings through quality infrastructure and trainer capabilities
Creating a Centre of Excellence for Skill Development
Delivering Training of Trainers program for their sector of interest
Progressive approach towards the skill eco-system through disruptive ideas, joint ventures, foreign collaborations etc.

The Project proposal may consider various models available for collaboration to ensure quality and high impact.

Partnership Period
A 2-year partnership is envisaged to execute the identified KPIs or Action Plan
Due-Diligence Process
The due-diligence process for the partnership shall be advisory led.


Applicant entity meeting eligibility to get in-principle NSDC Corporate Partnership with-in 72 working hours of application to NSDC
The final partnership shall be subject to internal approvals post detailed due diligence of the proposal

Certification for Training completed
The Corporate can issue a self-signed certificate or through relevant Sector Skill Council to the candidate towards successful completion of training for students mobilized under the following channels:


Fee-based model with student paying the fees
CSR sponsored fee per trainee
Corporate sponsored training of employees

List of Documents to be submitted

Letter of Intent to become an NSDC partner along with details of eligibility parameters
Resolution assigning Authorised Signatory to execute documents on behalf of the entity
Proposal document (To be jointly developed by NSDC and Corporate)

Applicable Guidelines
NSDC Non-Funded Affiliation* - Overview
NSDC can co-opt reputed entities with established credentials who wish to be a part of the "Skill India" and/or "Make in India Mission" but do not require funding and want to be a partner. Proposals submitted should be robust and catering to sectors with high growth, unmet needs and/or unorganized sector. Proposals must be outcome oriented and should focus on placement in industry, self-employment, entrepreneurship.
Key Elements of Non-Funded Affiliation*
Parameter
NSDC Funding Guideline
Eligibility (corporates)

Entity with more than 5 years in operation with sustainable growth.
For Entity listed in BSE/NSE with more than 5 years with sustainable growth and with a credit rating of A- and above, separate TOR and due-diligence process may be apllicable

Eligibility (not-for-profit)

Not for profit entity having more than 5 years of sustainable growth.
For not for profit entity previously funded by entities like World Bank, ADB, MSDF, UNDP etc. or foundation/social ventures of large corporates. For such entities separate TOR, and due-diligence process may be applicable

Training Outcome

Minimum of 2,000 over a period of 3 years with placement commitment of 70% ( Corporates )
Minimum of 5,000 over a period of 3 years with a placement commitment of 70% ( not-for-profit )
Approved projects need to adhere to the tenets of NSDC monitoring system.
Proposal should focus on linkages with industry for training and placement, livelihoods, self-employment, entrepreneurship or upskilling.
Courses need to be aligned to specific SSC QP/NOS
In Case of achievement of 70% of the committed target the partnership will be automatically renewed annually
Multi Stage Selection Process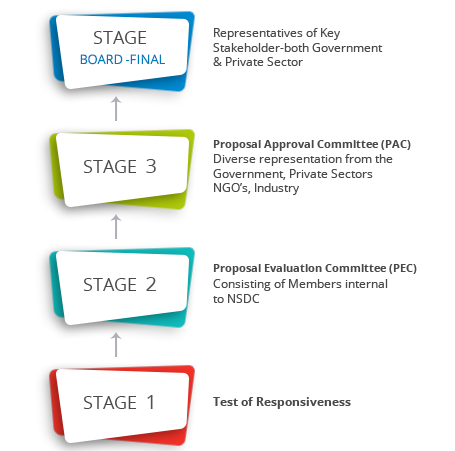 Note:- Active Involvement of Government, Industry Leaders & Leaders from Social Sector for approving projects ensuring interest of all stakeholders.
PMKK- Pradhan Mantri Kaushal Kendra
Vocational training needs to be made aspirational to transform India into the skill capital of the world. In line with the same, Ministry of Skill Development and Entrepreneurship ( MSDE ) intends to establish visible and aspirational model training centres in every district of the country. NSDC is the implementation agency for the project. These training centres will be state of the art Model Training Centres ( MTCs ), called as Pradhan Mantri Kaushal Kendra ( PMKK ). The model training centres under the PMKK program aim to:
Create benchmark institutions that demonstrate aspirational value for competency based skill training
Focus on elements of quality, sustainability and connect with stakeholders in skills delivery process
Funding support under PMKK
Capital Expenditure
NSDC will provide concessional loan funding per centre, up to 75% of the project investment, to cover expenditure related to:
Training infrastructure including purchase of plant, machinery & equipment
Training aid and other associated items
Civil work including setting up prefabricated structures and retrofit existing structures
Operations Support
The sustainability of the centres will be assured against dedicated training numbers under Pradhan Mantri Kaushal Vikas Yojna ( PMKVY ) or its successor schemes (any other scheme under MSDE or NSDC). Each PMKK will be assured a training mandate for three years, under the PMKVY scheme, as per common norms, subject to capacity and utilization of the centre.
Invitation for Proposal
NSDC invite proposals for funding in several sectors. Here you will find documents and guidelines to be followed to be an NSDC affiliated training partner.
Join the Skill India Mission by becoming NSDC training partner. To know more about the same
Workshops are organized from every Monday to Friday, 4.30 to 5.30 pm at NSDC office
Call NSDC training helpline number – 92892-00333, available from Monday to Friday between 9 am to 6 pm
Proposals Submission Guidelines
Proposal Submission Docket
These Technical & Financial templates are required to be submitted with all proposals along with the declaration.
Draft Agreement Docket
FAQs
FAQs- Funding, Non Funding, Entrepreneur, Training Institute
*Each non-funding proposal shall be subject to evaluation and due-diligence process of NSDC for shortlisting and acceptance.